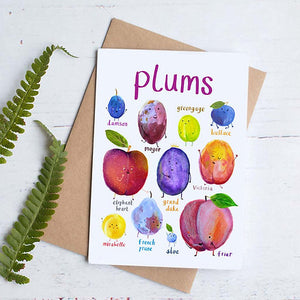 Plums!! This sweet and mischievous card features a line-up of fruity characters from the plum family. From the sharp little Sloe to the plump Elephant heart, this fun and colourful chart is ideal for birthdays, weddings, thank yous and hand-written hellos.
This is a great design for jam makers, gardeners, bakers and everyone with a cheeky sense of humour. 

Each illustration has been painted separately by hand using watercolour, crayon and digital media. The card features Sarah's signature typography and looks stunning in a frame too. Printed with a bright violet on the reverse.
The design is printed on uncoated card in the UK.
Size: A6 (105 x 148 mm)
Blank inside for your own message. 
Includes kraft envelope and wrapped in a biodegradable cellophane sleeve.